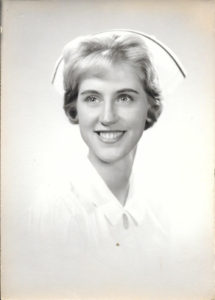 Susan Dorthea Ryan Drew passed away on March 27, 2018, in Maryville, Illinois, surrounded by her family.
Sue was born in Buffalo on November 10, 1942, the daughter of Laurette and Joseph Ralph Ryan. Sue graduated from Mount St. Mary's Academy and Mercy Hospital School of Nursing in Buffalo, NY.
Sue married Henry Douglas Drew in October of 1966. Hank and Sue set up housekeeping in Indiana, while Hank pursued a post doctorate at Purdue University. They moved to Edwardsville, Illinois and welcomed son Joseph Ralph in November of 1967, and daughter Mary Constance "Connie" in July of 1970. Sue continued her nursing career while raising their family.  Sue was the loving mother to Joe (Mary) Drew, and Connie (Keith) Wyvell. Her life was complete when she became a grandmother to Mary Constance "Connie" (2001) and Rebecca Catelyn (2004). Along with her husband, children and grandchildren, Sue is survived by her brother, Dan and Rosemary Ryan and their two daughters.
Sue had a great love of flowers and became a master gardener. She had many happy years with her gardening and nursing friends. She also had a great love of animals, especially her dogs. Sue shared her love for the Red, White and Blue concerts in Vero Beach each year when she gathered with her siblings to show her patriotism.
Their children surprised Hank and Sue with a 50th anniversary celebration in 2016.
Hank and Sue enjoyed ten happy winters in Vero Beach, Florida with siblings Dick (Rose) Drew, Mary (John) McKeone, and Bill (Geri) Drew. She will be greatly missed and her memory cherished.