IN LOVING MEMORY
• Richard L. Drew
• Henry D. Drew
• Susan Ryan Drew
.
CONNIE AND HANK – THEIR STORY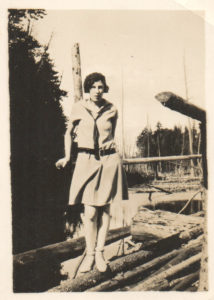 Mary Constance McDougall, (Consie) as she was known in Canada,was born May 2, 1905, in Lourdes, Nova Scotia. She was the oldest of eight siblings. She had a wonderful childhood, close to her McDougall and Mahoney relatives. Consie cherished her Nova Scotia roots and the relationships with her aunts, cousins and nourished the bonds she shared with them her entire life. Consie graduated from St. John's Academy and later became a teacher. When work became difficult for Consie's father, Big Bill McDougall, he left Nova Scotia. Bill traveled to Buffalo with a few other men in search of work. He found a job on the Buffalo River, at a package delivery service company.
In 1924, Consie received a visit from her friend Lida, who was leaving Nova Scotia to attend nursing school in Buffalo, NY. Consie's mother, Nellie (Mahoney) encouraged her daughter to go with Lida. With the little money her mother had squirreled away, Consie was able to purchase a one way ticket, and the next morning they were on their way.
Connie and her Dad found a modest place to make their home, and soon the McDougall family arrived in Buffalo. Connie (her Buffalo nickname) and her family went to the International Institution on Delaware Avenue and became U.S. citizens in 1940. Connie found work at J.N. Adams Department store, working in the drapery department. When leaving work one day Connie asked a fellow employee, the bundle girl, Estella Schuler (Aunt Stel), how to get the South Park bus. Since Stel took that same bus each day, they went together. That was the beginning of a 70 year friendship.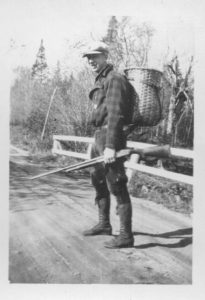 Henry Richard Drew, (Hank) was born in Buffalo, NY, on June 12, 1900. He was the son of Henry Douglas Drew and Sophia Linch. Sophia and her second child died in childbirth when Hank was two years old. Henry Douglas moved to Grand Rapids, Michigan, where he married and raised three daughters. Although his father was always a factor in his life, Hank was raised by his grandmother, Anna Lee Linch, and his Aunt Ella Linch. They lived at 20 Beyer Place in South Buffalo. Hank became a very skilled carpenter and contractor.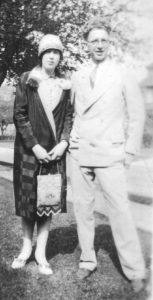 The 4th of July celebration in Cazenovia Park, in 1925 is where three buddies, Hank Drew, Joe McGuire and Frank Coyle met three girls, Connie, Stella and Nell. Hank married Connie, Joe married Stella and Frank married Nell. Today the six lay side by side in Holy Cross Cemetery in Lackawanna, NY., less than a mile from where they all met.
After a five year courtship, with Hank hunting in the Adirondack's in the summers, and working in Florida in the winters, and the beginning of the Great Depression, Hank said to Connie, "we can't get married." Connie answered, "Yes, we can." On September 15th, 1930 they were married in the rectory of St. Agatha's Church in South Buffalo. Hank, being a skilled carpenter, built them a garage apartment at 55 Ludwig Avenue in West Seneca. Their first child, a perfect baby, died at childbirth. This child was never forgotten by Connie or Hank. God blessed them with four healthy children, Richard Lee, December 1, 1934, Mary Constance June 23, 1937, and twins, a surprise, William Daniel, and Henry Douglas, September 8,1941. The twins were named for their grandfathers. Hank's comment when they started coming in twos: "I quit".
A Christening dress was made for Henry Douglas Drew by his mother Alice Bovingdon Drew in 1875. This dress is still being used today. Hank and Connie's children used it as well as the children of Dick, Mary, Bill and Hank. In fact the dress traveled to Hong Kong in 1990 for grandson, Brendan's Christening. The dress was worn by Ava Marie, Brendan's daughter in 2017. That is six generations from Henry Douglas. It was lovingly restored by Cathy Drew and it is in the safekeeping of Kelly McKeone Daly for future Christenings.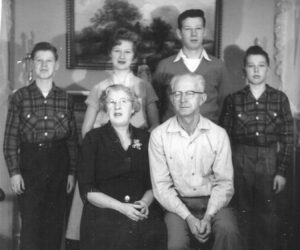 Our life on Ludwig Avenue, now the front house built after Mary was born, was ideal. Friends, neighbors, kick the can, Victory garden, roasting potatoes, volleyball, and Caz creek. The Linch, Drew, and McDougall relatives enriched the lives of the young Drew family. In fact Grampa Dougall, (Big Bill) lived his remaining years with his daughter's family. Connie practiced and lived her Catholic faith and passed it along to her four children. Hank showed his children how to live by being himself.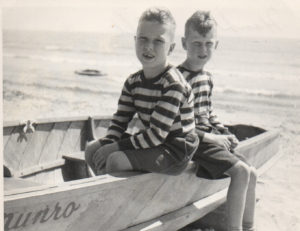 After the war, in 1946, Hank built his family a summer home on Lake Erie, in Canada. As the children swam, boated, water skied, sunned and danced, they watched their father, with super human effort, build two cottages. Hank worked in Buffalo by day and Canada by night. The couples work ethic, with a never complaining positive attitude, was a lesson for a lifetime. Dick met and married Rosemarie Wickenden, after watching her for years speed by in her racing boat with her blond hair flying in the wind. Hank winterized the cottage, where the couple stayed through the summers, and traveled to Clearwater Beach, Florida for the winter months. They had many good friends in Florida, many from Nova Scotia.
The winter isolation away from their growing family, led Hank and Connie to sell their Canadian lakeside home and build a lovely new home on Seneca Street in West Seneca. Their children and grandchildren became a daily part of their life and happiness abounded. Being of modest means, they eventually downsized to a small bungalow on Crescent Avenue in Hamburg, close to their kids and grandkids. They lived out their days with visits from children, grandchildren and great grandchildren. They loved everyone and everyone loved them.
Hank died December 10, 1991 at the age of 91. Connie died October 17, 1998 at the age of 93. Hank and Connie filled their children with love, faith, endurance, honesty, and an optimistic attitude. Connie would say, "It's not the IQ, but the I will." Hank said "Bite off more than you can chew, then chew it."
Through the investment of their growing inheritance, the children of Hank and Connie seek to honor them. The couple have given their children a privilege and legacy of caring. It is with hope that their presence in the world, and their example of kindness will be felt forever through the foundation's charities.